Literary homotopias and shared images. Figurations of the reader, the book and the reading activity on three digital platforms (YouTube, Instagram, Tumblr)
Homotopies littéraires et images partagées. Figurations du lecteur, du livre et de la lecture sur trois plateformes numériques (YouTube, Instagram, Tumblr).
This Ph.D. thesis questions the evolution of literary figures when they overflow places « of their own » to which they are usually bound and invest highly standardized, non-literary devices. We seek to analyze the « space » dedicated to literature-related contents on three audiovisual platforms: YouTube, Instagram and Tumblr. We formulate the hypothesis of the homotopic nature of some contents (literary « challenges », reading « vlogs », « bookporn », etc.), which assume their willingness to adapt to the industrialized functioning of these platforms. By doing so, they differ from the heterotopian nature of many other literary spaces (art circles, literary TV programs) that drew their legitimacy from a rhetoric of « resistance » to a media environment presented as a threat. With digital devices that claim their versatility, sharing literary contents is not assimilated to a subversive misappropriation by the uses, but to a simple possibility of specification among many others, anticipated by the interface. The representations of the reader (part one), the book (part two) and activity of reading (part three) are analyzed in the light of a socio-semiotic, diachronic and iconographic approach. The qualitative analysis of those « shared images » eventually reveals a regime of popularity that combines with, rather than replaces, the regime of singularity. By investing circulating forms, the standardized specificities of the reading experiences that are displayed re-mediatize a « social » function of literature, between collective symbolic systems, technical framing and commercial stakes.
Cette thèse vise à interroger le devenir des figures littéraires lorsqu'elles débordent des « lieux à soi » auxquels elles sont traditionnellement cantonnées, pour investir des dispositifs généralistes hautement standardisés. Il s'agit d'analyser la « place » ménagée aux contenus relatifs à la lecture sur trois plateformes de partage d'images : YouTube, Instagram et Tumblr. Nous formulons l'hypothèse du caractère homotopique de certaines pratiques (« challenges » littéraires, « vlogs » de lecture, « bookporn », etc.), qui répondent à un idéal d'adéquation aux logiques industrialisées de ces plateformes. Elles diffèrent ainsi du fonctionnement hétérotopique d'autres espaces littéraires (cénacles, émissions littéraires) qui puisaient à l'inverse leur légitimité dans une rhétorique de la « résistance » face à un environnement médiatique présenté comme une menace. Au sein de dispositifs numériques qui revendiquent leur polyvalence, le partage de contenus littéraires n'est plus assimilé à un détournement subversif, mais à une simple potentialité de spécification parmi tant d'autres, prévue par l'interface. Les figurations du lecteur (première partie), du livre (deuxième partie) et de la lecture (troisième partie) sont analysées à l'aune d'une triple approche socio-sémiotique, diachronique et iconographique. L'analyse qualitative de ces « images partagées » dévoile finalement un régime de popularité qui se combine au régime de singularité, plus qu'il ne le remplace. L'investissement de formes circulantes entraine la mise en scène d'expériences de lecture à la fois spécifiques et stéréotypées, qui remédiatisent une fonction « sociale » du littéraire au carrefour entre imaginaires collectifs, cadrage technique et enjeux marchands.
Fichier principal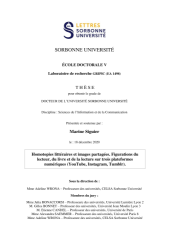 Version_finale_SIGUIER_Marine_2020_these.pdf (24.7 Mo)
Télécharger le fichier
Origin : Files produced by the author(s)